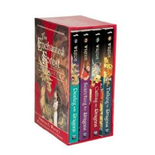 Welcome to the Patricia C. Wrede Wiki!
Edit
Hello, and welcome to the Patricia C. Wrede wiki! This wiki deals with the Enchanted Forest Chronicles and its four books: Dealing with Dragons, Searching for Dragons, Calling on Dragons, and Talking to Dragons. Right now the wiki may contain spoilers, but we hope to build on the pages so that spoilers only exist in the body of a page, and not the introduction.
Quick links:
Editing the Patricia C. Wrede Wiki
Edit
If you want to edit, please check out the help page on editing. If you are new to wikis, before you start editing consider testing your edits in the Sandbox. If you have trouble editing, either read the documentation or contact a bureaucrat/sysop. Enjoy yourself while editing, and have fun!
Please visit our Manual of Style before creating any new pages.
Latest activity
Edit
Community content is available under
CC-BY-SA
unless otherwise noted.